It is meant to streamline your back-end HR procedures and give your employees a fantastic experience. It also includes tools to aid in the recruitment, onboarding, and HR policy management processes. Customize all of your HR processes to provide your candidates with a consistent experience.
Create the ideal hiring experience with bespoke workflows and keep track of each vacancy's progress.
Leave Tracker and Leave Balances
Performance Appraisal Management
GPS and Mobile Attendance
Employee Database Management
Time and Attendance Management
Document Management and E signature
* Keep your people management systems up-to-date in a rapidly changing world using Zoho People.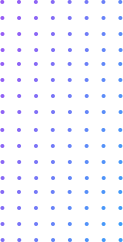 Zoho People Features Explanation
New hires should not be second-guessing their decision to join your organization. Begin with confidence by ensuring that everything is in order on the first day. This day of work for a new employee is crucial, and you can provide a positive impression by taking care of things like their devices, team orientation, and company-branded presents like notebooks and jumpers.
Time and Attendance Management
Say goodbye to time-consuming sheets and adopt a more effective approach to tracking employee attendance. With Zoho People; a cloud-based attendance management solution, you can generate analytical insights, regularise attendance, and allow your on-site and remote staff to check in from anywhere.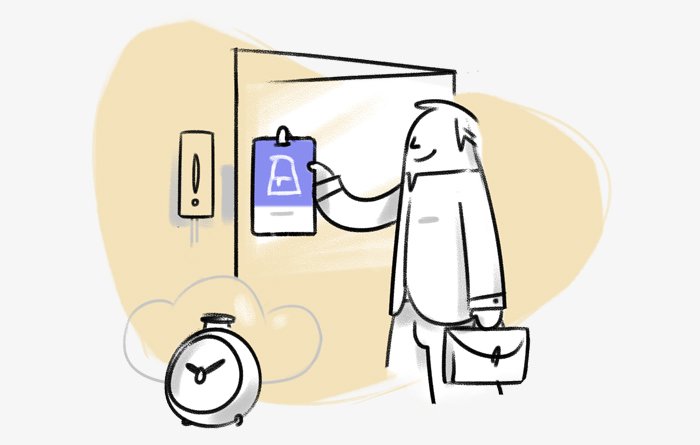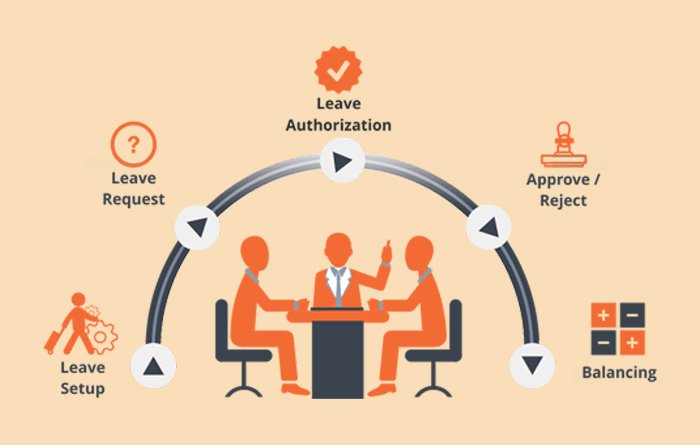 With Zoho People, you have complete control over your leave system. Choose whether holidays and weekends are counted as days off, how days off are divided into pay periods, and how long each form of leave lasts.
This tool assesses a variety of variables while performing employee performance reviews, including Key Performance Indicators, talents achieved, and other competencies. With Zoho People, you can get all of this information and evaluate various elements of an employee's performance.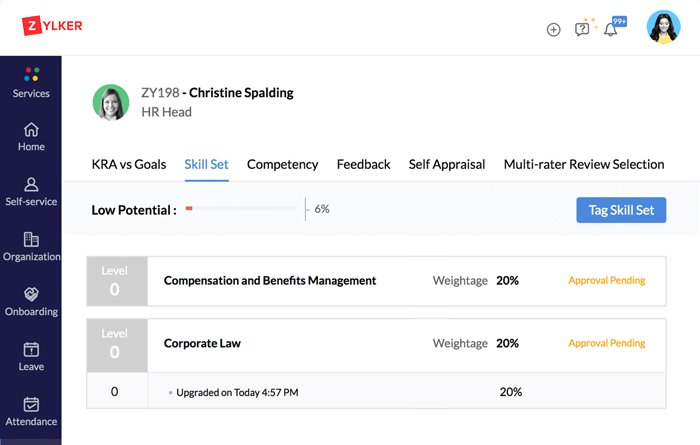 * The Best-In-Class Human Resource Management Software for Your HR processes
Zoho People Pricing Plans
The Best Application Software at an Affordable Rate.
Monthly Pricing Plans
Yearly Pricing Plans
Employee Onboarding
Employee Database Management
HR Files management
Employee Self-Service
Time Off Management
Multi-level Approvals
Module-based Reports
Workflow Management
ZIA - AI Bot
Office Readiness
Essential HR +
Attendance marking via web, mobile, and facial recognition
People Kiosk
Biometric Integration
Shift Scheduling
Shift Rotation
IP & Geo Restrictions
Overtime Calculation
Job Scheduling
Time Tracking
Timesheet Management
Timesheet Scheduler
Billing and Invoicing Integration
Professional +
Performance Appraisals
KRA and Goals Tracking
Skill Set Matrix
360-Degree Feedback
Self-Appraisals
Multi-Rater Review
Advanced HR Analytics
Premium +
Cases (Employee Query Management)
Cases SLA Tracking
Self and Blended Learning
Course Management
Course Feedback
Discussion Forum
Assessments
Essential HR
/user/month billed annually
Employee Onboarding
Employee Database Management
HR Files management
Employee Self-Service
Time Off Management
Multi-level Approvals
Module-based Reports
Workflow Management
ZIA - AI Bot
Office Readiness
Proffesional
/user/month billed annually
Essential HR +
Attendance marking via web, mobile, and facial recognition
People Kiosk
Biometric Integration
Shift Scheduling
Shift Rotation
IP & Geo Restrictions
Overtime Calculation
Job Scheduling
Time Tracking
Timesheet Management
Billing and Invoicing Integration
Premium
/user/month billed annually
Professional +
Performance Appraisals
KRA and Goals Tracking
Skill Set Matrix
360-Degree Feedback
Self-Appraisals
Multi-Rater Review
Advanced HR Analytics
Enterprise
/user/month billed annually
Premium +
Cases (Employee Query Management)
Cases SLA Tracking
Self and Blended Learning
Course Management
Course Feedback
Discussion Forum
Assessments
Zoho People Frequently Asked Questions