Rozella Real Estate Web Development Case Study
Rozella is a leading real estate broker in Dubai that provides both domestic and international clients with first-rate real estate investment solutions. Rozella offers unequaled real estate investment options with guaranteed profits on certain terms and conditions thanks to its extensive market experience and insights.
Rozella Real Estate wanted us to create a mobile-friendly website that would improve the sale or rental of its portfolio of homes by increasing visibility of its opulent real estate listings, drawing more users to the site, expanding lead opportunities, and increasing lead opportunities. In order to encourage people to stay on the site longer, the search function filter also needs to be simple to use and customized.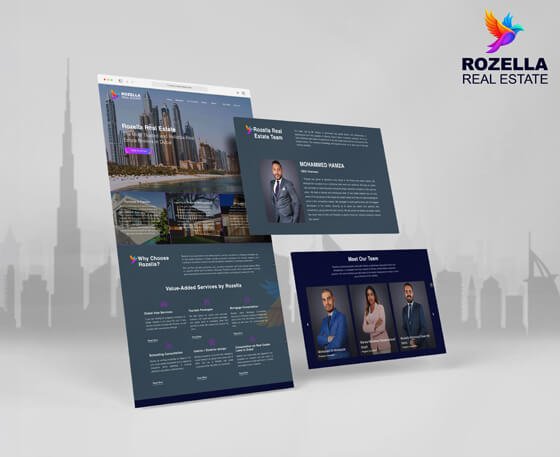 Our Web Development Solution
We used React JS and Laravel to design and create a custom PWA website with a variety of features and search capability. From the Home page to Contact us, the website's navigation is simple and straightforward to use. The user may simply search for the various types of properties they are looking for and gets an app-like experience from the mobile view.
The website was coded with speed, scalability, and adaptability in mind by our skilled development team. The website employs a headless WordPress CMS, which frees it from conventional development limitations while yet enabling flexible content updates.
The site is ranking A on GT metrix
It is also ranking 91% on Google page speed.

Site visits have increased by 61%.

Designed and easy order process with few steps
We loved working with Prism to build our website. it was a pleasure to work with the team that guided us every step of the way. they are experts at website development and really support the customers even after the project is deployed. We still work with them for all our digital marketing requirements.
Prism built our entire PWA and e-commerce website from the ground up. They were instrumental in guiding us with the technical requirements as well as managing the whole design and customer experience CX of the website so that the process was very systematic. The website is absolutely amazing and our online sales have absolutely taken off like a bullet. Prism is literally the best ecommerce website design company we have ever worked with.
American Gulf School is an international American curriculum-based, experience learning school, and Prism created our amazing new website. They did a fantastic job in creating the website from the design to the execution of the technology and the UI UX of the website. Our traffic has grown by over 500% and the SEO ranking of the website is jumped to the first page of google in just 3 months of us going live... basically Prism changed the way we market ourselves to the world. Prism is highly recommended for any schools or colleges to work with.
Prism did a wonderful job of creating our website. they did it in just ten days and it works very well. their team is very skilled and transparent when working on our project. and they also manage the website and host it on Google servers. Prism also manages our social media and our SEO since the last year and we are very happy with their services.
Prism is a fantastic company to work with. We love working with them they have built our websites and landing pages for all our advertising campaign as well manage all our digital marketing requirements as our advertising and digital marketing partner. I wish them the best of luck with their New canada office